You can join the server here: https://discord.gg/T4pKZE59WG
Why use Discord?
Discord makes groups easy. By joining the official SUBPAC server, you'll be able to:
stay updated on the SUBPAC X1+C1 and the latest SUBPAC news
share the best music/movies/games/experiences with SUBPAC
enjoy exclusive virtual programmings like live music, AMA's, town halls, and more
stay in touch with other members of the FEEL community
How to use Discord?
When you follow the link to the server first you'll see the rules and terms which will appear like this: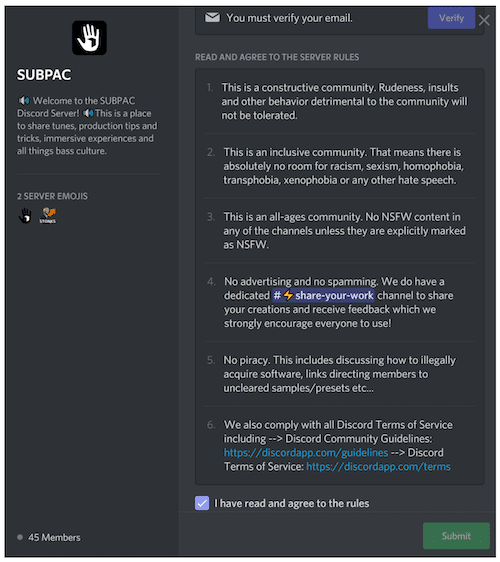 Once you've read and agreed to this boring (but important) stuff, you can now assign yourself a role in the #self-role channel. Roles are a great way to let others in the community know what you're interested in or working on. There are currently 8 to choose from; simply react with the corresponding emoji at the bottom of the BASSBOT comment: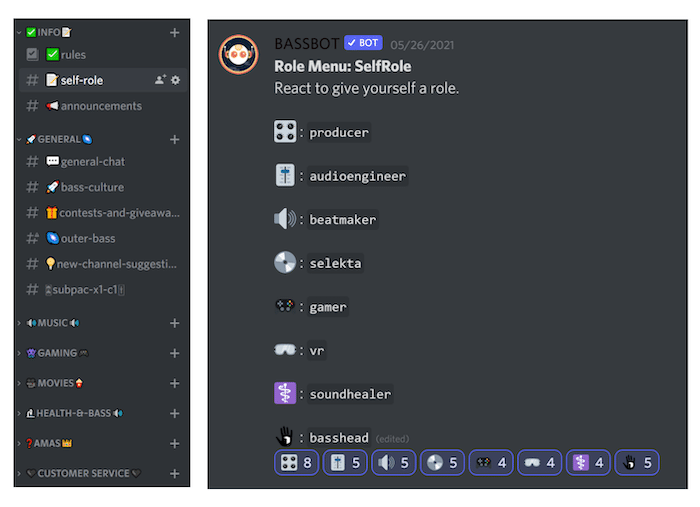 Once you're all set up feel free to take a look around and get involved in the different channels and let us know if there are new channels that you think are missing!
This server is a collective effort driven by the community and will continue to evolve and grow over time. The future of sound is FEELING; join the mission 🚀
Join the SUBPAC Server