A Unified Experience
The SUBPAC X1 System Combines Hardware, Software & Pro-Wireless I/O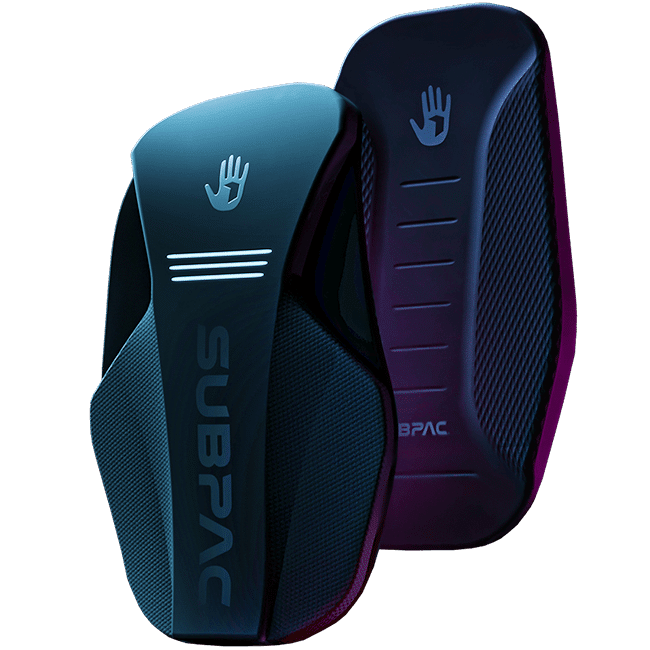 To The Deepest Bass
Unparalleled Low-Frequency Referencing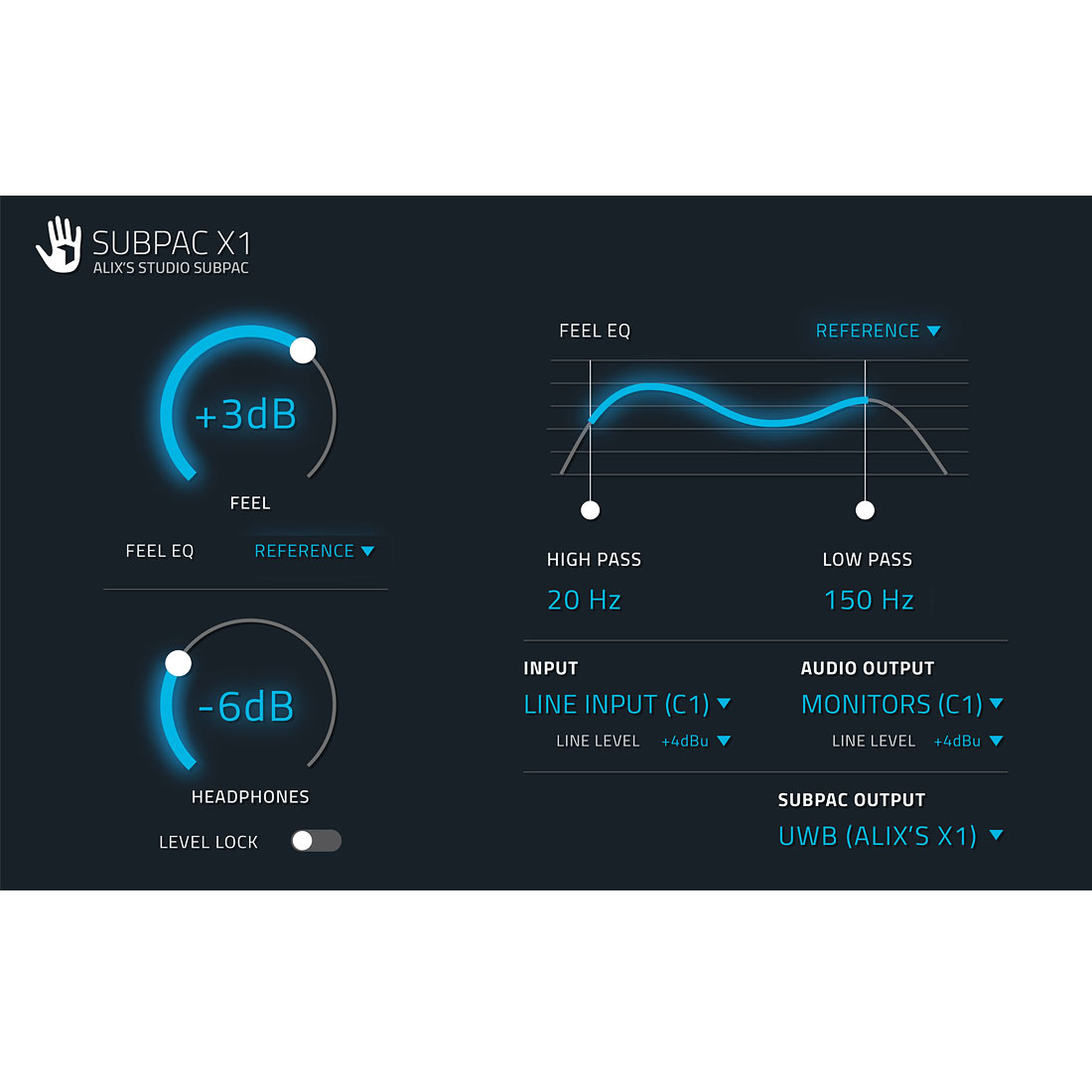 Delay, EQ, Filters
Dial Into Every Listening Environment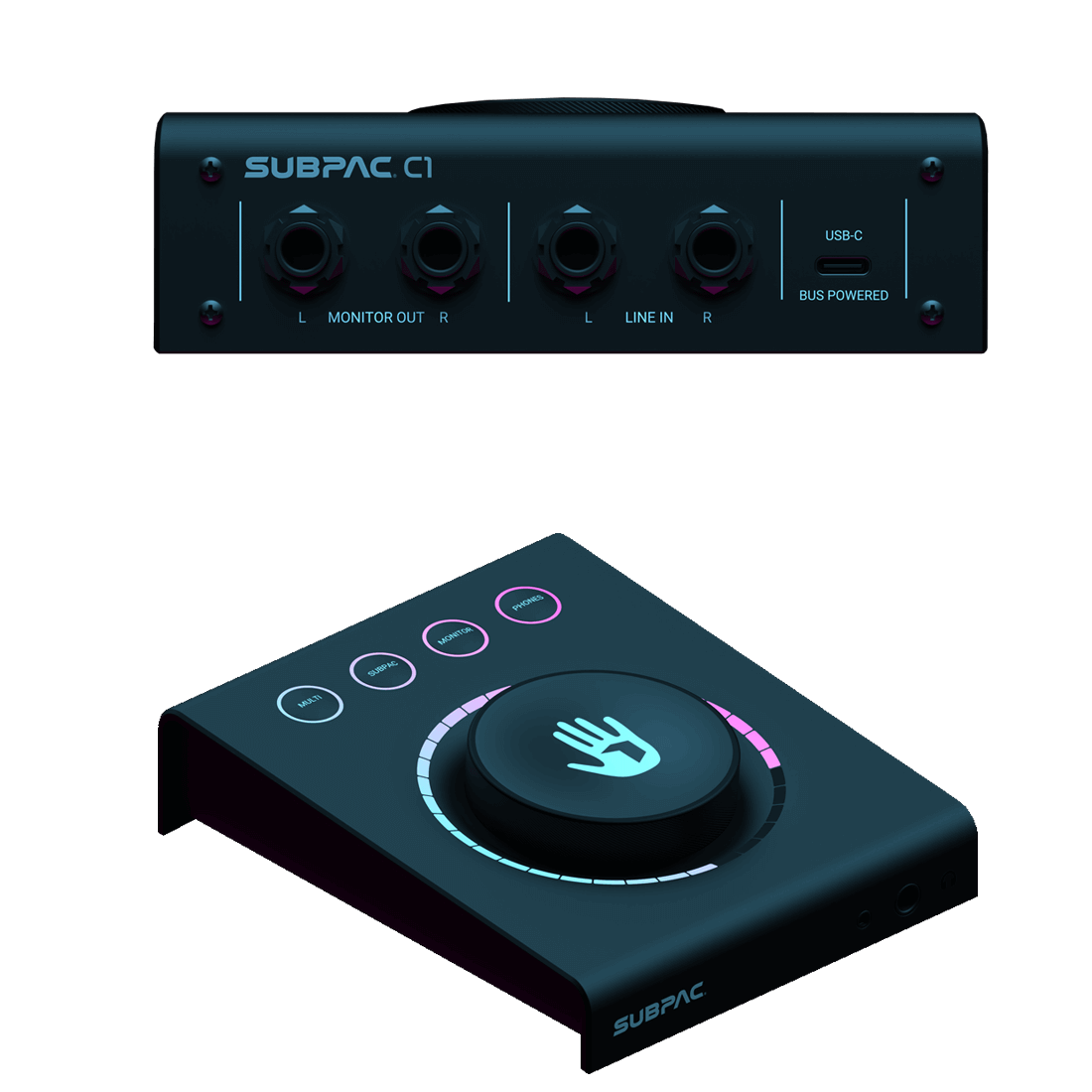 With a Pro Wireless I/O
Lose The Cable Without Compromise
SUBPAC X1 is designed for Dual Use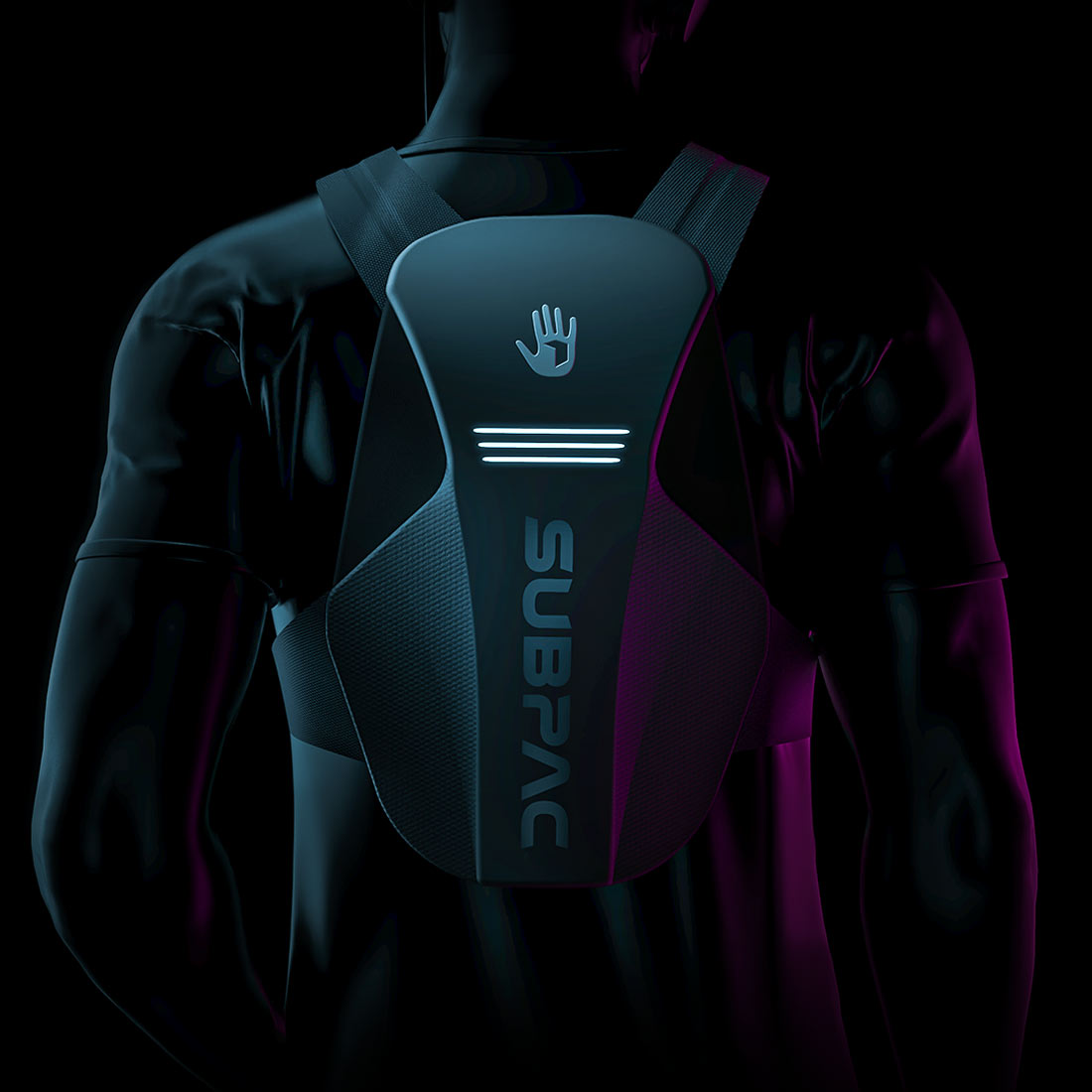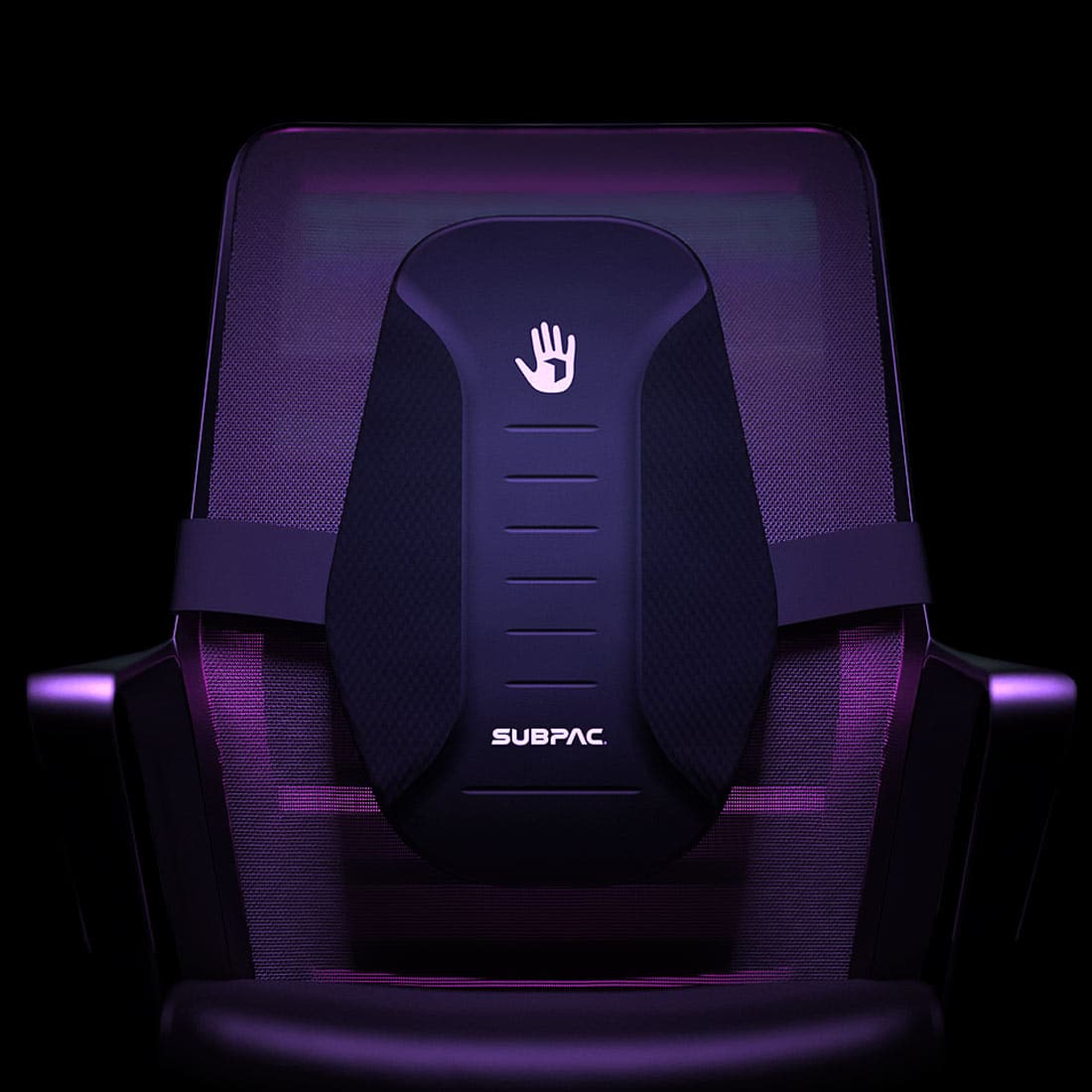 A New Hybrid Design
with a Simple Modular Strapping System for Both Wearable & Seated
For Your Chair
Your Secret Weapon
in the Studio
Improved Power & Performance
Customizable Settings (Delay, Eq, Filters)
Removable I/O (3.5mm and USB-C Connections)
High and Low Impedance Headphone Compatibility
Comfortable Design for Longer Sessions
For You To Wear
Big Bass, Anywhere
Modular Strapping System
High-Capacity Rechargeable Battery
Improved Vibro-Tactile Field
SUBPAC X1
Removable Mini I/O
3.5mm Line Input
3.5mm Headphone Output
Level Attenuation & Mode Select
SUBPAC X1
Removable Mini I/O
3.5mm Line Input
3.5mm Headphone Output
Level Attenuation & Mode Select
Software Driven
Variable filters, EQs, time-alignment, and DSP settings
SUBPAC® Flow advanced AI platform for increased accuracy and precision
App for advanced configuration and deeper sound exploration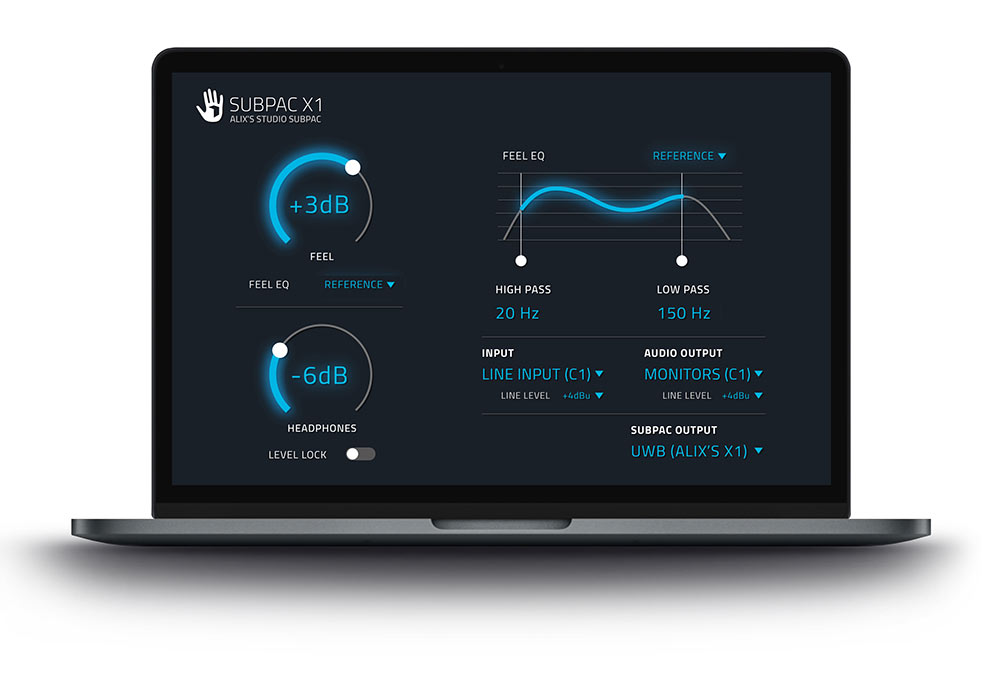 SUBPAC C1 Pro Wireless I/O
ANALOG + DIGITAL + WIRELESS CONNECTIVITY
Advanced DSP and processing options
Intuitive desktop controls for levels and quick A/B
Computer control and configuration
Inputs
2 x ¼" Line inputs

-10dBV/+4dBu switch

Balanced/unbalanced switch

Neutrik connectors

USB Audio Class 2.0 over USB Type-C
Outputs
SUBPAC UWB Wireless Audio

2 x ¼" Monitor outputs,

-10dBV/+4dBu switch

Balanced/unbalanced switch

Neutrik connectors

¼" & 3.5mm Headphone Outputs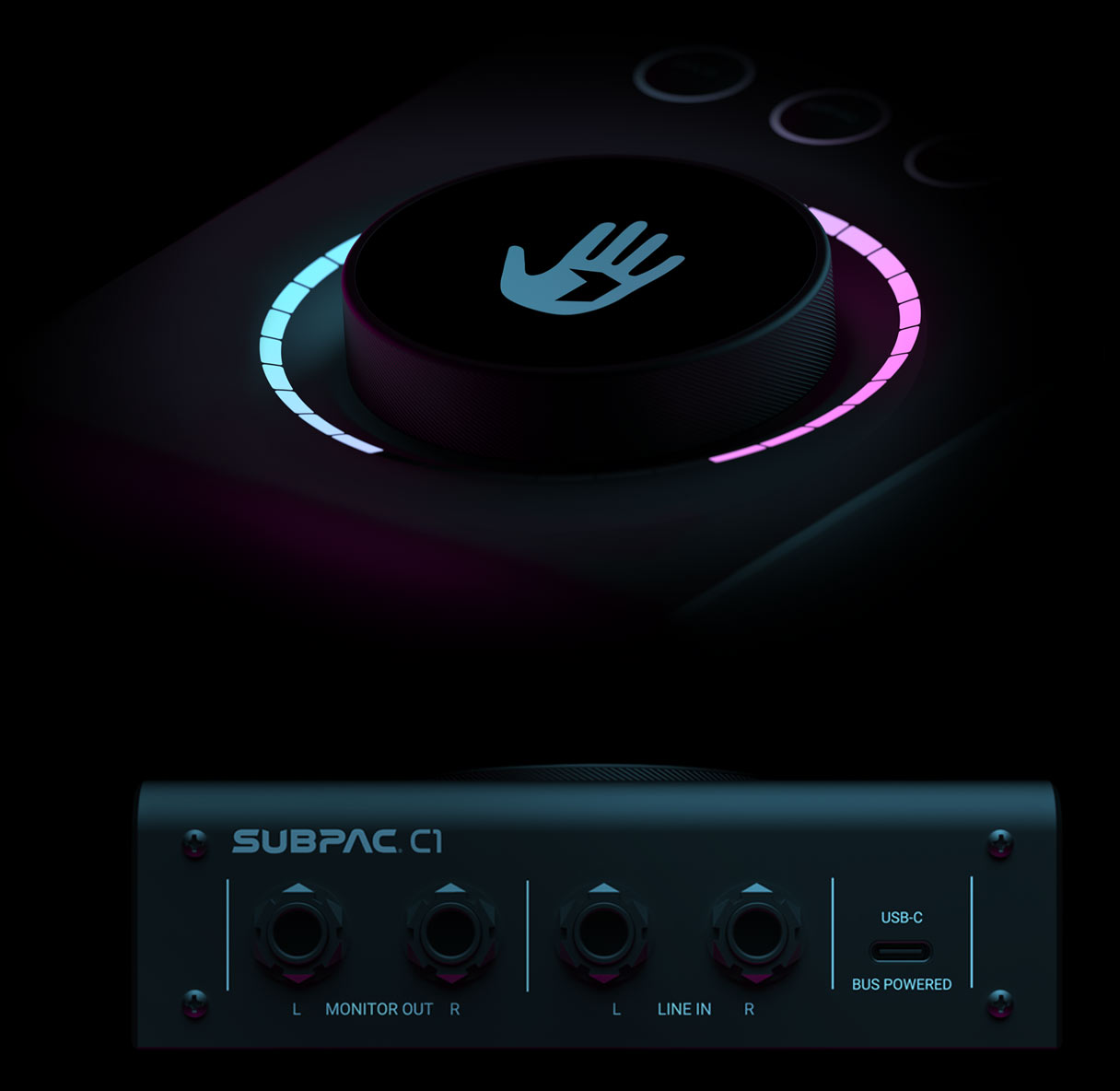 Mobile and PC app control over filters, EQs, time-alignment, tactile and headphone levels, and other advanced settings.
Redesigned audio path and software optimizations for improved fidelity, increased power and more headroom.
Interchangeable strapping solutions for both seated and wearable uses, providing a more comfortable and ergonomic fit.
Removable wired analog I/O and remote for the X1, and the optional C1 for professional grade interface options.
Next generation UWB pro-wireless audio with the companion C1 for ultra-low latency, lossless reproduction.
Highest quality component selection to meet the most rigorous demands in the studio, on stage, and beyond.
Comparison: M2 / S2 / X1 / C1
| | M2 | S2 | X1 | X1 + C1 |
| --- | --- | --- | --- | --- |
| Seatback | ✘ | ✔ | ✔ | ✔ |
| Wearable | ✔ | ✘ | ✔ | ✔ |
| Modular Straps | ✘ | ✔ | ✔ | ✔ |
| Analog Input | 3.5mm | 3.5mm | 3.5mm | 2 x 1/4" bal/unbal |
| Input Level | -10dBV | -10dBV | -10dBV | -10dBV or +4dBu |
| Headphone Output | 3.5mm | 3.5mm | 3.5mm | 3.5mm and 1/4" |
| Headphone Output Impedance | Lo-Z | Lo-Z | Hi-Z/Lo-Z | Hi-Z/Lo-Z |
| Monitor Output | ✘ | ✘ | ✘ | 2 x 1/4" bal/unbal |
| UWB Wireless Audio | ✘ | ✘ | ✔ | ✔ |
| Digital Input | ✘ | ✘ | USB Audio | USB Audio |
| Bluetooth | A2DP | A2DP | A2DP | A2DP |
| Power | DC Barrel | DC Barrel | USB-C | USB-C |
| DSP | Single Preset | Single Preset | Multiple Presets | Advanced Configuration |
| Software | ✘ | ✘ | Phone | Phone + Computer |
| Battery | 3 cell Li-Ion | 3 cell Li-Ion | 4 cell Li-Ion | 4 cell Li-Ion |
| Control surface | ✘ | ✘ | ✘ | ✔ |
| Improved power handing to avoid shutdowns | ✘ | ✘ | ✔ | ✔ |
"SUBPAC is a game changing experience for both artists & fans. It lets you feel the music like never before. Every record I make from now on will be optimized for feeling, for the SUBPAC."

TIMBALAND
"By introducing the physical dimension of sound, SUBPAC creates a direct connection between the fan & the music in its purest form, allowing a deeper appreciation for the music we all love."

RICHIE HAWTIN
"SUBPAC has taken monitoring to a whole new level altogether. You actually feel the separation in the low end instead of struggling to hear it!"

COLDCUT
"As a producer this is the best tool you could ever be given."

ZOMBOY
The Future Is Feeling
The New SUBPAC X1
Limited Quantities