On Tuesday September 23, multi-genre music producer and rapper  Flying Lotus treated fans and friends to an intimate performance and record release show at Mack Sennett Studios in Los Angeles. His new album You're Dead  will be released on Oct 7 via Warp Records as a follow up to his 2012 offering 'Until The Quiet Comes'.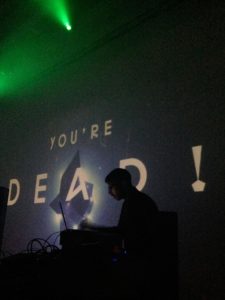 Inside the multi room historic warehouse a series of unique visual experiences were brought to life by Timeboy and Strangeloop creating an "after-future" visual experience. SUBPAC was in the mix providing the physical dimension of sound for Brainfeeder VJ 'Strangeloop's Oculus Rift based Virtual Reality experience based on the music from Flying Lotus' new album and the bespoke artwork of Japanese comic book artist Shintaro Kago. Kago's art has been described as "fashionable paranoia" and the artist was commissioned to create the visual elements for the album including an original illustration for each track on You're Dead, two of which were also on display on the night in striking large panel sized formats.
The Brainfeeder DJ's opened the night with an impeccably curated set of left field ambient, rock, disco and juke. Being a Flying Lotus event we shouldn't have been surprised to see a 20 minute long performance by a string-quartet up next. It was an unusual but effective ploy and settled the excited crowd allowing them to begin the evening immersed in virtuoso live instrumentation, a theme that was emphasized throughout the night. The Gaslamp Killer then played a brief set of ambient bass-heavy beats followed by Flying Lotus himself who introduced the new album to an intrigued audience of fans and friends including Jazz legend Herbie Hancock, and Little Dragon singer Yukimi Nagano. 
As expected the album was a jazz fuelled, bass heavy journey thru 60's avant-garde jazz via 2000-and-teen's electronic music culture. FlyLo had hand-selected a band of virtuoso jazz musicians, some of whom were present, to play many of the complex and hard-hitting original jazz licks sampled on the record. As a nod to his genre eschewing aesthetic the evening closed with a live performance from the band – a perfect complement to the jazz heavy and leftfield tone of the album.
Tumblr hosted the event at Mack Sennett Studios as part of their Tumblr IRL series of interactive events that provide a window into the musician's creative mind by teaming up a Musician/Producer with a visual artist to tell the story of their music in an immersive space.