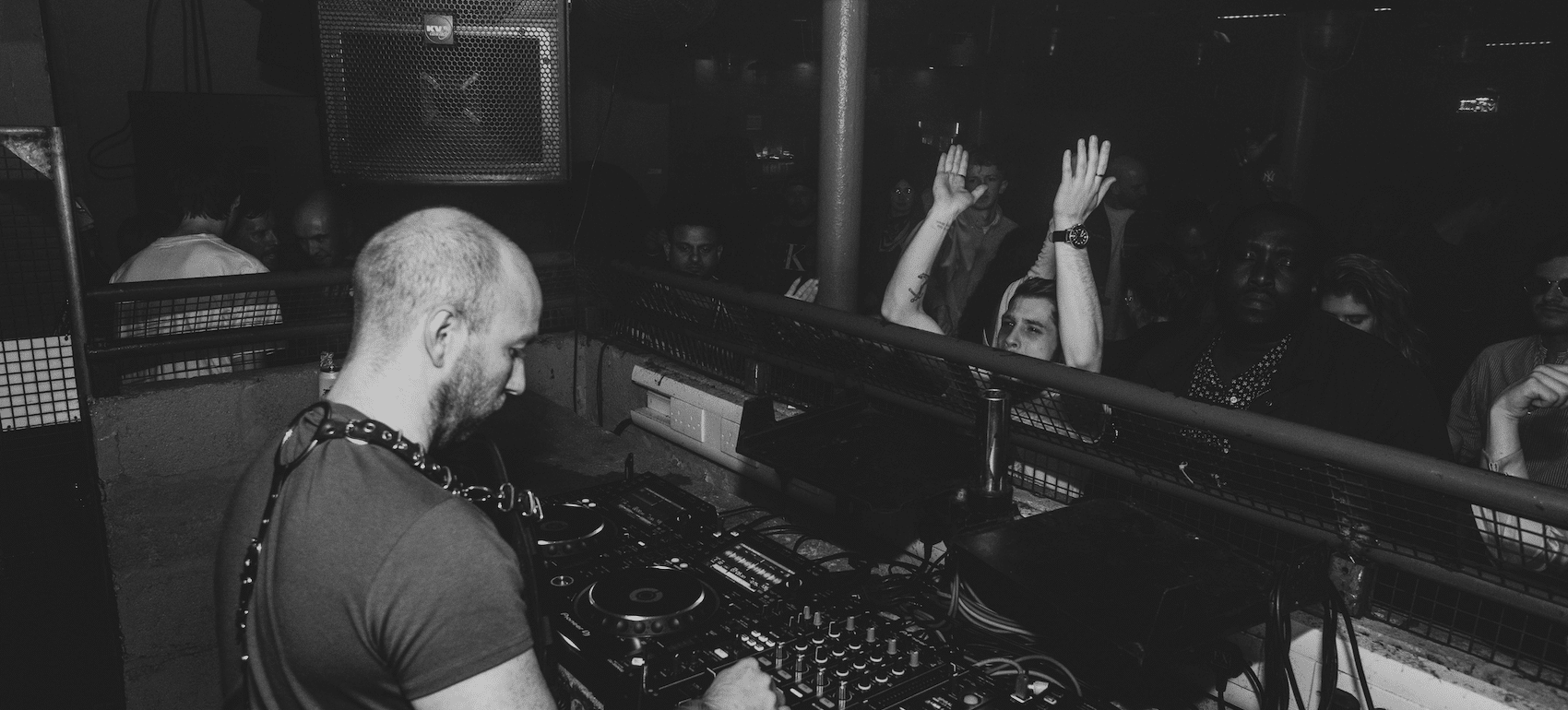 Our good friend and DJ Jacob Casselden aka Kikazaru joins us today to talk about his journey as a Deaf DJ.
Hey Kikazaru!
Can you tell us a bit about your background and what led you to get into music and Djing? We can imagine you had to deal with some pretty big barriers due to your Deafness.
Hey SUBPAC! Thanks for having me.
Well, I was raised in a performing arts family, thrown into the deep-end in everything from early on – and I've got the embarrassing pictures to prove it! (Best they remain under lock and key).
I think one of the best experiences was tap dancing and drumming lessons, as there are incredibly strong links between the two. I deeply enjoyed furiously researching these arts, putting the two together and pushing all the boundaries of what you can do with the body and with rhythm.
I have to give some credit to my brother and sister, who are both getting close to their 50s: I grew up seeing them return home a little wired after stomping on mother earth at illegal raves. Plus there were plenty of electronic CDs and DJ magazines all over the house all the time, so I suppose a huge influence did come from those too.
Though, I have met barriers for my entire life and I can tell you this, it sucked. I still experience it today. It took me twenty years to get to myself behind the Pioneers all because I couldn't find anyone to teach me. Instead, I had some pretty demeaning and insulting responses from both individuals and academies across the UK and it had affected me deeply. I wouldn't wish this on anyone.
Thankfully, London Sound Academy instantly took up the challenge and bent backwards to get me to mix. I owe them my life. Now, I suppose you could say I am working my ass off to catch up on those years lost.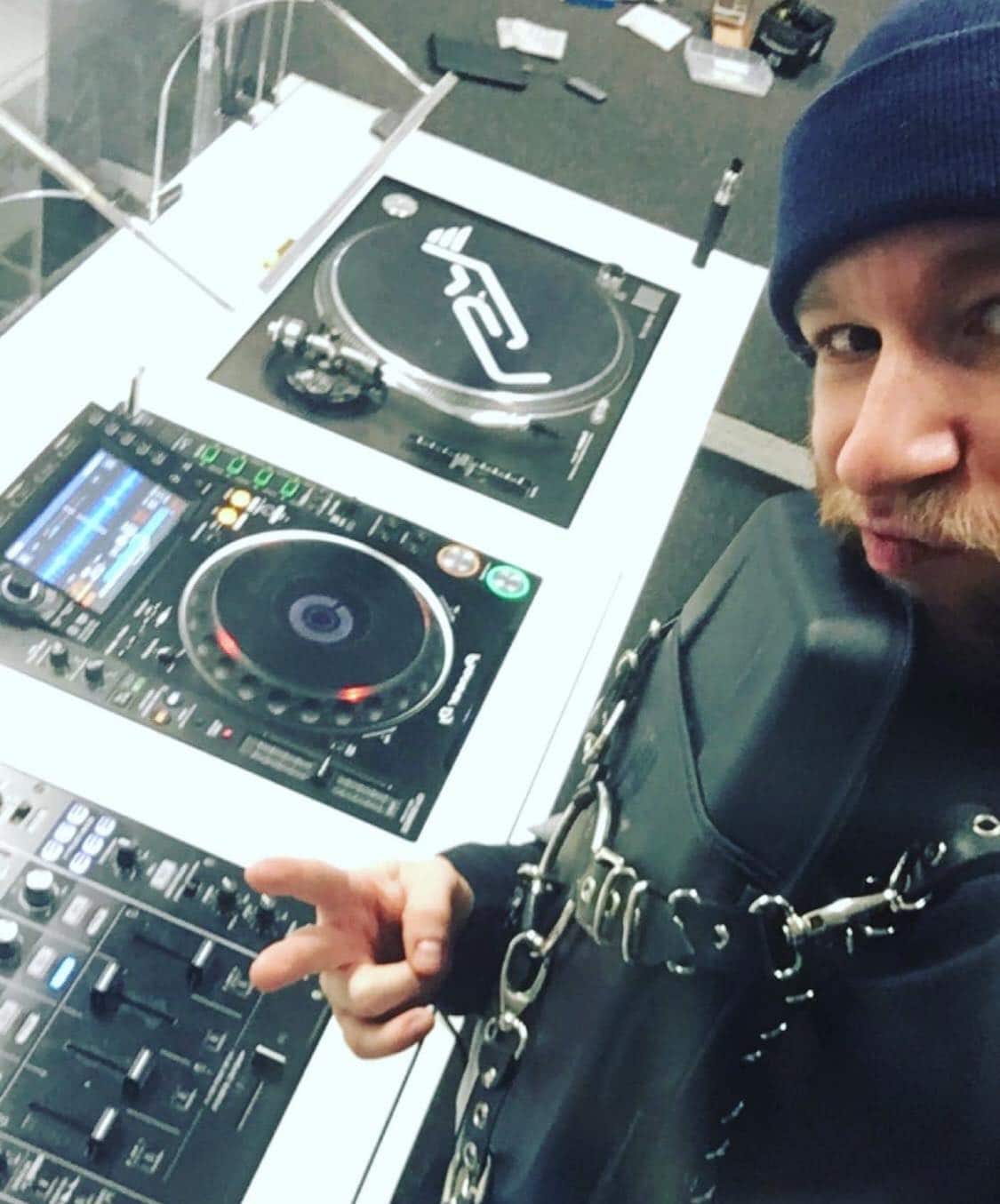 Where did the name Kikazaru come from?
The DJ name that I still cannot pronounce? Haha. I struggled to come up with an alias for a while then someone suggested: KIKAZARU. I later realised it's the name of the wise monkey to hear no evil and you know what? It's perfect.
We know you use a SUBPAC S2 while Dj-ing, can you tell us about the modifications and how you use it when curating music and performing?
S2 IS MY GOD! At the start, I used duct tape to strap the SUBPAC onto my chest and struggled to use both hands to DJ since I had to keep one hand on the SUBPAC to stop it from sliding down. What's more, I couldn't bloody breathe! The duct tape is not stretchy. It was a TERRIBLE Idea.
Later on, a friend introduced me to a small independent company here in London called 'Broke Boutique' and they design amazing outfits. They loved the idea of breaking down this barrier and explored the possibilities with using reclaimed tractor inner tubes called Butyl Rubber. Not only is it strong as hell, it is extremely versatile and It looks hella good too. It adjusts easily (perfect after growing a COVID lockdown belly) and can now play for hours without worrying about it (and maybe Berghain will finally let me in (I kid – I'm a proud veteran).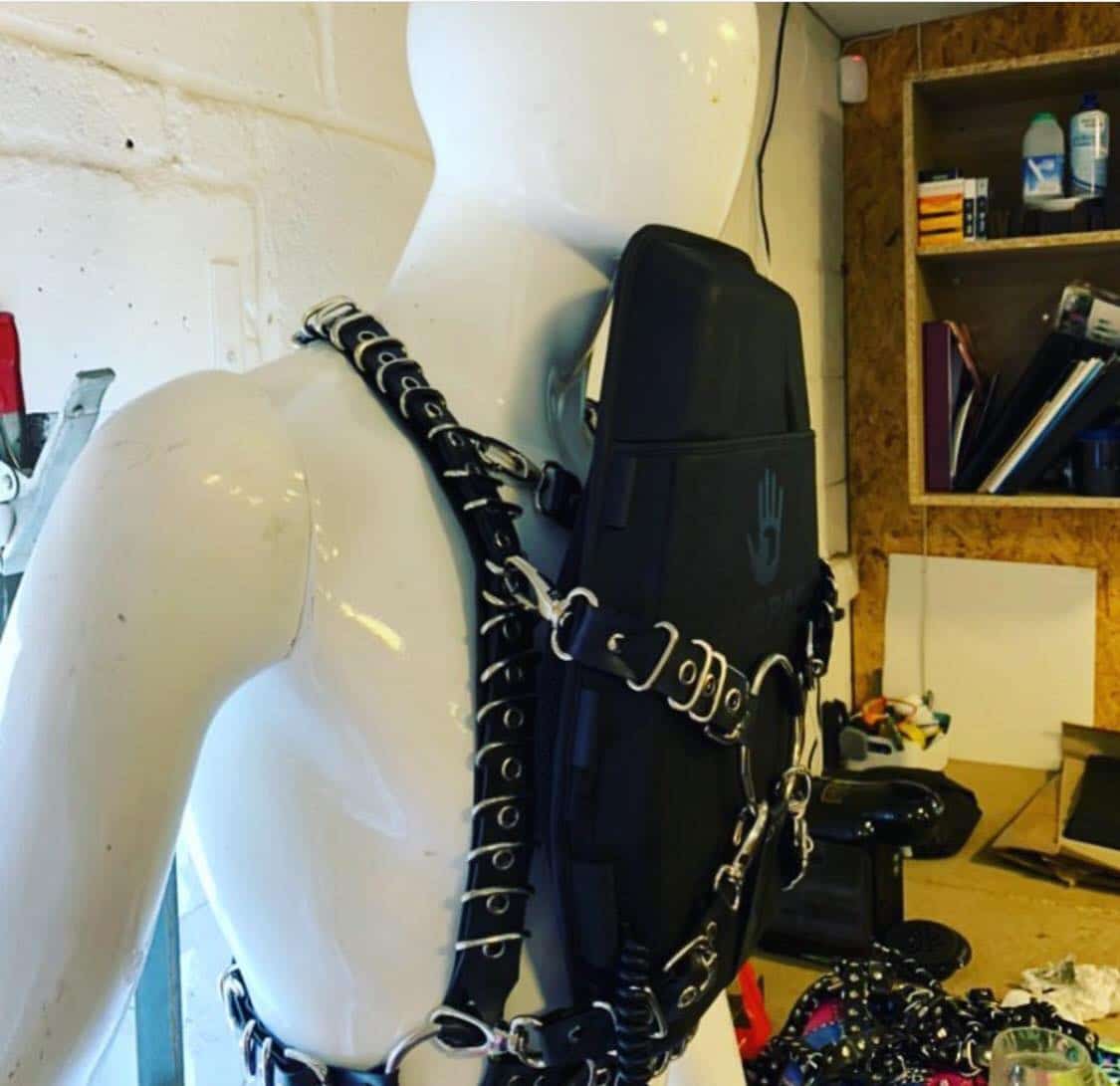 I use the upper shape of the SUBPAC to feel the higher frequencies with my chin and the body of the 'Pac as the main beat. I suppose it is quite similar to Beethoven's modification on the piano: he had cut the legs off the piano and brought it down to the floor. He had also used a wooden stick attached to his teeth to feel the vibrations. I spend a minimum of six hours digging for new music, everyday and the SUBPAC assists me every step of the way. If it isn't SUBPAC verified then it isn't for me.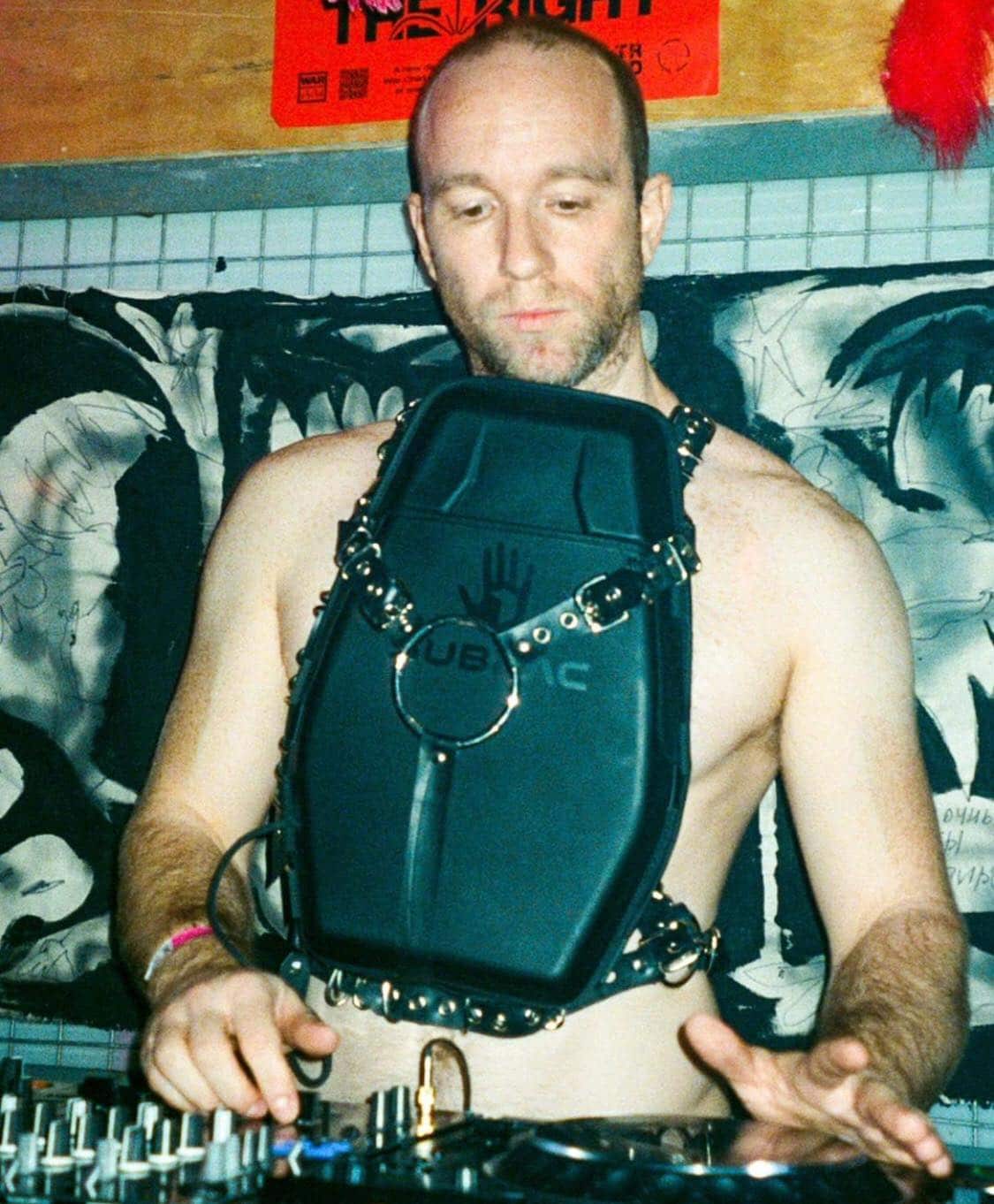 At SUBPAC we believe music and sound should be accessible to all regardless of ability. How do you think we can get more people who are typically underrepresented in the music industry to get in the mix?
First of all, education is extremely important. Many Deaf individuals are raised with little to no understanding of music and that really annoys me. We really need to encourage the education departments to change this and we have the tool (SubPac) and Pioneer's Rekordbox to make it a reality. Rekordbox could be used for anything to do with music and sounds as the waves will tell you everything, visually. Not only that but music and sound is a source of power to socialise with others, it is also a rock, a counsellor and best friend.
The underrepresentation is another issue that we all have to endure. We need more role models to look up to. We really need to break down barriers for the younger generations. Many people still don't understand why Deaf people should be associated with music. Believe it or not, we Deaf people can feel things in music the ears miss out on and it is magical. Vibrations do not discriminate. Count your lucky stars if you have a SUBPAC 'cos that's a hella closer to our world.
We have been watching the new waves of female and POC DJs and it has been absolutely satisfying! But, uh, *knock knock* (who's there?), "Disabled", (Disabled who?) "Disabled DJs are already here and are still waiting…".
What other type of music technology are you using to enable you to Dj?
When I had started to learn to DJ, I was a bit of a mess with the set building. The waves were thick and I couldn't see through it. The world has become a lot easier since Pioneer's Rekordbox introduced the 3 Band Waveform and I haven't been able to put down the laptop, yet! Not going to lie, it is affecting my marriage…
The CDJ-2000 NX2 is a brilliant piece of kit and I am able to DJ with my eyes. The pin on the top supports the beat-matching as well as using the SUBPAC. Then there's the colour tones which support the set building and clear diagram to assist the timing. Everything about it is perfect!
When practising, I often use a hollow wooden box to stand on so I can feel the music as the output so I can have similar feedback as those who can hear. But the nervousness always starts there, because I know it isn't the same as DJing somewhere with an awesome sound system. When DJing live, it becomes what I heard is like a K-hole where you have so many different rhythms available from both vibration and visuals and from different directions, it becomes a maze. I have around six different timings pushed onto me and it can be tricky to establish which one to follow. It took me a while to get to the right place and that is all thanks to the SUBPAC.
How has the response been from the Deaf/Hoh communities so far?
Well, I was a bit of a hermit for three years or so, focusing on the music, learning more about and crafting my own art of mixing. I had never found the strength to share this journey to the Deaf community due to the fear of being looked down on.
However, after the first Radio Show at the Voices Radio in London, I had some Deaf people sharing the live stream link and a few sent over positive feedback. A few had asked about the SUBPAC and how DJing was achieved. One deaf man shared with me that he wasn't able to sleep that night because he was still feeling the energy from the set. Another that I hadn't seen for nine years bought it up the other day and mentioned his father's a DJ but never found the way to DJ himself, a Deaf man. This is everything and it has motivated me to go further pushing my boundaries knowing that they are hungry for acceptance in the music world as much as I am.
You mix techno, what led you towards that genre specifically?
I am really attracted to Break Beats from the wider world of Techno because there are so many rhythms going on inside it. It is an uncommodified language that is meticulous as fuck.
Techno has more vibrations than you'll find at the back of an old diesel bus, and it has attitude. I had first discovered the world of underground techno at Fabric, thanks to a friend, Keith. A few years later I was dragged to Berghain in Berlin and that was it. There is something about it that made me feel valid with everyone on the dancefloor and that genre is just, wild! The techno tree is HUGE and I still have so much to learn from it.
What artists, labels and styles are you feeling at the moment?
Jeez, I am spoiled for choices here. British Murder Boys are Mecca! You should check out Kuniaki Takenaga too and he gives no mercy. Oscar Mulero, Lewis Fautzi & Raär are also brilliant. I am following a lot of labels, especially Revoltek, Faut Section, Mona Records & Imminent Records. Again, spoilt for choices.
You have recently secured a regular radio show and have gigs lined up too. Tell us more info about where our community can come and see you or tune in to check you out?
Sure! I am on live every first Sunday of the month at Voices Radio (2200 LDN time). They have also fitted a camera so Deaf people can watch and feel the music at the same time through Mixcloud Live. I advise you to plug in the SUBPAC and the headset together to get that extra experience from it.
Thank you Kikazaru! You are an inspiration to us all! We are so happy to be involved in your musical journey. Is there anything else you would like to add?
A huge thank you to my family, my closest friends especially DJs: Barnjem and VIVI for inspiring me to go further and for being brilliant friends, London Sound Academy for their invaluable time and effort, Pioneer for making DJing visually accessible for us and finally, the most wonderful invention; SUBPAC!
Kikazaru prepared an exclusive mix for us, optimized for SUBPAC
Trk list:
Daniel Avery – Slow Fade (Actress Remix)
Truncate – Breakdown (Original Mix)
Family Sex – Manbait (Regis Version)
Lars Huismann – Sphere (Original Mix)
Alderaan – New World (Original Mix)
Desroi – Xanax (Original Mix)
Go Hiyama – Residual Set (Bas Mooy Remix)
Exium – 96.1 Mhz (Original Mix)
Temudo – Cranston (Original Mix)
A Thousand Details – Fibresol (Original Mix)
Specific Objects – Unintentional Desire (Original Mix)
Kwartz – Stained With Blood (Original Mix)