This year's edition of the HACKLAB, Musicmotion, and SAT set up an environment to inclusively and accessibility allowing all artists to co-create and highlight the diversity of capabilities.
For context, the shift towards digital media has shed light on a social injustice affecting disabled individuals.  The vast majority of digital art creation tools are designed for people without disabilities and are not accessible to everyone.
Following the blueprint of a hackathon, the HACKLAB was a laboratory of co-creation taking place over three days (October 15-17), during which time teams fused art and technology to design interactive and inclusive digital artworks.
Activities

Participating teams received SUBPACs, which was a perfect match for this year's HACKLAB, as many D/deaf and hard-of-hearing people use SUBPACs to experience sound.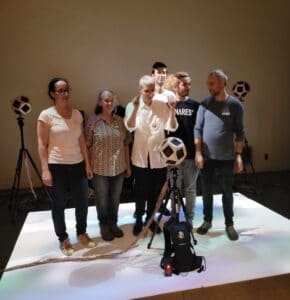 WINNERS: Team Woochi – The Song of the Canvas
'The Song of the Canvas' is an immersive work that invites you to browse a painting by listening – an inclusive experience designed by a blind artist. The main objective is to unveil a mental image in the mind of the participant. On the one hand, loudspeakers are strategically placed around the work to create an immersive experience in which sound atmospheres and movement in space are created, bringing out the pictorial narration. On the other hand, SUBPAC provided wireless physical audio to feel the sound matter and was also used to trigger a warning at the edge of the immersion zone. The installation is designed so that a blind person will be able to feel safe and independent since physical landmarks are placed to serve as a guide to help them in their mobility. In addition, a sound source placed at a fixed point emits a sound that serves as a landmark and helps with spatial orientation.
A big thank you to Musicmotion and the SAT for having us. We are excited for next year! 
PRIZES:
Desjardins grant of $ 2,500 to the WOOCHI team for their project 'Le chant du canevas'.

Research and creation residency at Metalab, R&D laboratory of the SAT, for the PERCEPTO team

$500 cash purse, offered by SUBPAC to the ENIGMA team

$500 gift certificate, offered by MontVR to the MURMURATION team

Tickets for an immersive show at the SAT offered to the OETHEL team
More info: