Next up in our Women's Month series is Maria Batlle- a talented visual artist, musician, and cultural entrepreneur based in the Dominican Republic.
Maria is also the Founder of the Maria Battle Foundation, an organization breaking down barriers between music and Deaf children. Maria's ability to create, innovate and connect is a true inspiration. She has combined her incredible talent as an artist with her passion for technology and social justice into one powerful foundation that creates inclusion for Deaf people and inspires so many.
Q+A with Maria Batlle
Founder, Maria Batlle Foundation
As an artist, I paint and write about social justice. I run a foundation (Maria Batlle Foundation) which promotes social justice and inclusion for people with disabilities through art and technology. I also lead the first Department of Inclusion at Santo Domingo's city hall. This is the first department in the Dominican Republic that works specifically on how to make the city's overall experience inclusive for people with disabilities.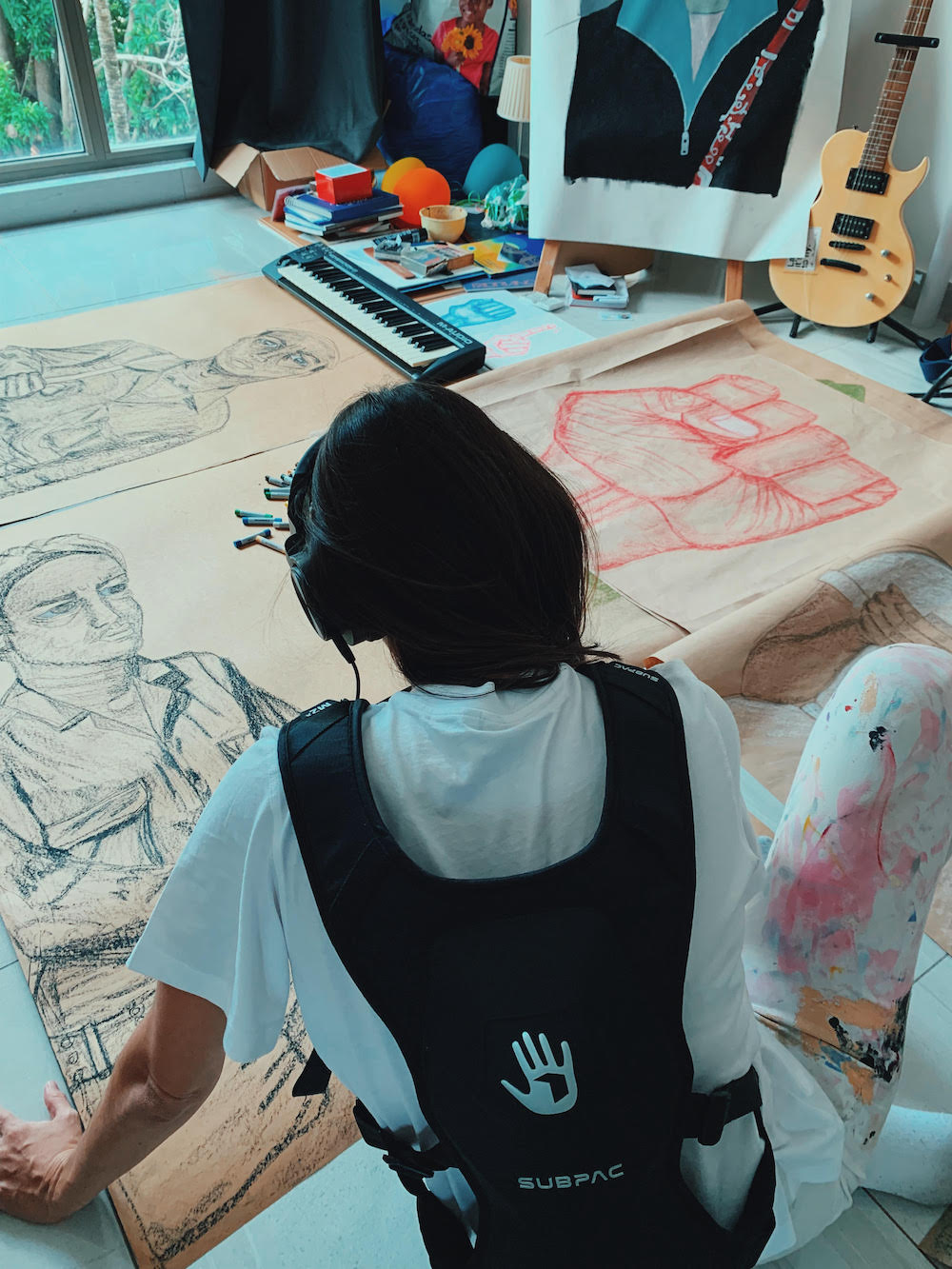 Q. Do you have a favorite music memory?
A. My favorite music memory goes to the 90's and rock from the 60's. Listening to Nirvana, Pearl Jam, Björk, Fiona Apple, Janis Joplin, Jimi Hendrix or The Doors, with my friends and reading the lyrics carefully. Studying the artists, what inspired them to do each song, how they felt. Back then listening to music was taken seriously! It was an activity you would sit down and do, no multitasking. Just listening to music. 
Q. How did you get interested in music + tech?
A. I was working on an art show as part of an artist residency, and created a song for each painting I was doing. I wanted to explore how a painting would sound and how a song would look. I called this Muse Seek Project. Days after the opening of the art show I visited a public school to volunteer in any way I could. There, I met Deaf students. I wanted to invite them to the art show but realized the music was not presented in an accessible way for them to appreciate and this got me thinking A LOT. I immediately started a music and sound vibrations exploration program in that school and started working with the Deaf students. A year later I connected with SUBPAC and boom. This was like 9 years ago. A lot has happened ever since. This project was featured in the New York Times! 
Q. What achievement are you most proud of?
A. While working with music and feeling its vibrations with SUBPAC, together with Deaf students, we were fighting for the students to have access to high school education. They didn't, just because they were Deaf. We were able to achieve this, today Deaf students in this school have access to high school. Through our foundation we were able to support a Deaf student, Luis Alberto, with an art scholarship because it was his dream to study art. Just a few weeks ago he became the first Deaf student in the country to graduate from art school. Luis Alberto inspired me to fight for social justice since the day we met. To see him achieve his goals feels means the world to me.
Q: Who is your favorite woman in music? 
A. Björk is my goddess. Her album Gling Gló, recorded in the 90's with tríó Guðmundar Ingólfssonar is absolutely incredible. I grew up with Björk, listening and admiring her as the most complete artist. Her strong connection with nature yet at the same time using technology to express nature in her music, creating music instruments, creating music education programs, and the list goes on. I couldn't possibly describe her or her work. I have a rare relationship with Björk, understood only by my high school friends. Just the other day I was telling one of my friends that I once dated someone that asked me to play Björk in the car and I was shocked, Björk is not to be played "in a car". It's weird, I know.  
Q. How do you stay motivated?
A. Since I was a teenager I remember being so moved by a very specific type of art. Art that made me think about social justice, art that taught me about human rights. The goal of achieving social justice in the Dominican Republic, the idea that it's possible and that there's something I can do about it as an activist, as an artist and now as a law student, burns the biggest fire of motivation inside my heart.
A. The source of inspiration for me is art and surrounding myself with other artists and creative people. There are a few songs that have actually inspired me to make big decisions. I remember when I heard "Get Free" by Diplo and Major Lazer. I saw them on YouTube playing it live and I was so moved I quit my job that day and just focused on creative projects such as exploring music together with the Deaf community. The art that has inspired me the most comes from Björk, Tim Burton, Wes Anderson, Robert Rodríguez, Sade, A Tribe Called Quest and Kings of Convenience, to name a few.
Q. You are undoubtedly busy, how do you take care of yourself and maintain a good mental health?
A. Therapy, to start, and also, quality time with family and friends.
Q. What's the greatest risk you've taken?
A.Whether creating a piece of art or writing an article about social justice, the scariest thing I've ever done, the greatest risk I've taken is daring to speak my voice.

Q. What helped you navigate your way through a male-dominated industry?
A. The support of other women.
Q. What are you working on now…anything exciting coming up you want to share? 🙂
A. I'm working on 2 art shows, one about Dominican Sign Language and the Deaf community, and another one about the 1965 civil revolution that happened in the DR. 
Next: a playlist that best represents you 👯‍♀️
Music from the Dominican Republic, mostly made by women.