Next up in our Women's Month series is ill-esha (pronounced ill-EE-sha), a Canadian-born and Colorado-based music producer, artist, DJ, and educator.
As a multi-dimensional artist who has crafted a powerful legacy by bridging the gaps between hip-hop, R&B, pop, and bass genres, ill-esha has maintained her authenticity and individuality while steadily progressing in the electronic music scene since the late '90s.
Her Discord server, Electronic Music Production, is a leading server for EDM production and is used as a platform for mentoring and supporting young artists. Ill-esha's passion and dedication to building community through music has made her a recognized leader in audio production. In addition, her NFT project 'Cryptowaves' has generated excitement within the crypto community and beyond, inspiring other artists to explore the Web3 space. It is an honor to feature her in our Women's Month series!
Q+A with ill-esha:
Music Producer, Artist & Educator
Q. Do you have a favorite music memory?
A. As a touring artist since my teens, I have so many memories of incredible outdoor festivals. Nature is my other favorite thing, and when I can combine it with music I'm in my happy place. I've played in Israeli deserts, Panama jungles, Costa Rica beaches, California lakes… nothing makes me more inspired to perform than incredible 360 degree views.. combined with stacks of bassbins 🙂
Q. How did you get interested in music + tech?
A. I have always been obsessed with technology and futurism, and I wanted robot implants as a child way before "biohacking" was in my lexicon. Music runs in my family, but I tend to run away from things that are traditional, and classical/music theory never quite fascinated me. In high school I started rapping and singing at parties, and started touring as one of only two female drum 'n' bass MCs in North America, which enabled me to connect with a lot of producers who wanted vocals or raps on their tunes. I made "deals" to exchange my toplines for production knowledge, started DJIng, and was fascinated by my friends' expensive samplers with a whopping 8MB of memory. After high school, I ended up at a private audio college and started seriously getting into DAWs and beatmaking. It's been a downward spiral into gear hoarding, complex live performance setups and custom Hackintoshes ever since!
Q. What achievement are you most proud of?
A. I have three answers for this, as a producer; a DJ; and just as me. As a producer I finally achieved the beginnings of a life dream recently by releasing a track on Ninja Tune; as a DJ it was an absolute bucket list to play the first Boiler Room in Denver. But as just a regular music loving human, I've been very proud to create and curate the EDM Production Discord over the last five years, which is a safe space for all gender identities, ages and neurotypes to learn about electronic music production. I truly believe that it is part of my personal journey as an artist to uplift and mentor the next generation, and try to show them love and support. And helping young creatives connect with their inner spark gives me more joy than all the flyer credentials you could stick under my name.
Q: Who is your favorite woman in music?
A. Bjork and Imogen Heap are my two main inspirations. I also recently discovered Chagall, who is an incredible multimedia performer who uses the MIMU gloves. All these women are on the cutting edge of new technology and super experimental, and yet incredibly emotional and expressive in their music, which is timeless and yet incredibly futuristic.
Q. How do you stay motivated?
A. Those who know me will laugh at this question – I'm what they call a "Type A" – overly motivated to the point of obsession. However, the music industry itself really dampens that motivation sometimes, for sure, and that's why I spend so much time trying to teach and help people. It's only going to become a better industry if we show them a kinder way.
A. I love making people's faces light up. That's why I started DJing in the first place; that's why I enjoy teaching. I'm the weirdest introvert and I often duck out at parties or just plain hide at home, so I think that being able to share my knowledge or skill to bring a smile to someone else's soul is my love language.
Q. What lesson can you share from your experiences that is unique to being a woman?
A. ASK QUESTIONS WITHOUT FEAR. Women are so exhausted or timid about men questioning their knowledge and motives that they will remain silent rather than risk someone thinking they don't know. I have been dismayed through teaching university to see that even at a master's degree level, the few women in my programs will hardly speak in class, and sometimes not even come to me when they need me.
It is STRONG, not WEAK, to ask for help. And just remember – every time you hesitate, there is a drooling Chad in a snapback somewhere posting his first 5-minute garbage beat. The more questions you ask, the more answers you'll get, the more you'll know, and the more comfortable you will feel. Knowledge is power.
Q. What helped you navigate your way through a male-dominated industry?
A. I was bullied pretty bad as a kid. I got physically wrecked, ended up in hospitals, called all kinds of names and told I should end myself. By the time I was a teen, I was pretty immune to bullying, or naysaying of any kind, and all my friends were techy computer nerd boys, and I almost didn't even think of myself as a girl. It was a brutal start, but it made me just laugh at any side comments thrown my way and gave me emotional armor of steel to navigate any obstacles. I still get annoyed when I show up lugging 150 pounds of gear and the venue asks if I need help setting up, or talks to my male friend instead of me – but in the end, it just motivates me more to crush it.
Q. You are undoubtedly busy, how do you take care of yourself and maintain a good mental health?
A. Physical exercise and outdoors are huge – these are two things I avoided like the plague in my first years of producing. Social media will make you think that everyone is spending weekend benders in the studio while impeccably dressed and made-up, but I started to realize that after I crossed the initial learning curve, too much studio time has detrimental effects. You need to get up, you need to look away from the screen, your eyes need food as much as your stomach does. And some people are night owls, but I've come to realize I'm actually a midday kind of girl. I'm at my best when I take my vitamins, get up before 10 am, and sleep before 3. I hate to say it, but stopping full-time touring was the best thing I ever did for my mental health. I think that it's important as an artist to do so and I don't regret it, but there has to be some balance, some time off the plane that isn't just recovery.
Q.What's the greatest risk you've taken?
A. Stopping full-time touring! It has been my life since I was 15 years old and decades later, I was exhausted and burnt-out but terrified to jump off the circuit. To be honest, COVID took that risk for me, since that option was temporarily erased. I have always done a variety of work, like any other surviving mid-level producer… but touring was 90% of my income at the time. A year after first quarantine I realized that I was feeling a lot better and happier, and am now achieving a more balanced life.
Q. If you could have one superpower, what would you like it to be?
A. It's always gotta be invisibility, so I could go to whatever magical places I want (and sit in empty first-class seats on the way!)
Q. What do you wish you knew before you started out?
A. This is cliche, but just BE YOUR TRUEST SELF. I think I let pressure from touring and top DJ charts sway my perspective a little too much over the years, and ended up with music that I'd still say is mine, but not a completely free version of me. I think a lot of artists also experience having success with one particular tune, and then feeling the pressure to conform to that style. Of course this is terrible advice if you're jumping in specifically to be a big EDM star – in that case, follow the formula and paint the numbers –  but I'm liking my own music so much more now that I let go of needing to be what anyone else expects. It was a really telling moment that when I finally got a track on my dream label, it was an ambient classical electronic piece, and not any of my "festival bass music".
Q. What is the best advice you have ever received?
A. Shouts out to Sev Erickson of Greazus who told me about 15 years ago, "EQ EVERYTHING."
Q. Do you have any advice for women in the music/tech industry just starting out?
A. Learn, everything you can. Then teach it to others repeatedly. Experiment with technology – there's nothing wrong with CDJs, but there is so much more to music tech than that! We are in a beautiful era where the expressiveness of available controllers is at an all-time high. From A/R to motion capture to accelerometers to Midi Polyphonic Expression, there is nearly no limit to the amount of ways that you can create and perform, so push it!
Q. What's the future of music and tech?
A. I always used to joke with my friends that we will have achieved complete singularity when we can buy an "RCA to Brain Out" adapter. One of my students, Calvin McCormack, actually developed tech to translate EEG activity into effects modulation and synth parameters, so I think the future might be right now. I'm also extremely excited about the accessibility factor – the cost barrier of tech has always bothered me, so it's really incredible to see that you can now make music on mobile phones, because everyone deserves the chance to create. And now there are exciting new developers with the same beliefs making incredible programs, like Controlla XYZ (turns your mobile phone into a 3-D augmented reality midi controller) or Volta (allows anyone with a half decent laptop to make generative, audio-reactive visuals).
Q. What are you working on now…anything exciting coming up you want to share? 🙂
A. Matt Black from Coldcut and myself are working on a new passion project to mentor and inspire others in live electronic performance, production and music tech. It's a free community channel called ILBC (International Live Beat Challenge) and if you couldn't guess by the name, we are working towards presenting an exciting live performance competition, we call it "DMCs for the 21st century". We're ilbc_tv on Twitch and all socials, and right now we're presenting regular workshops, feedback streams and preparing lots of goodies for the upcoming year. If you are a producer/artist as passionate about sharing knowledge with the community as we are, please reach out – we'd love to have you on board.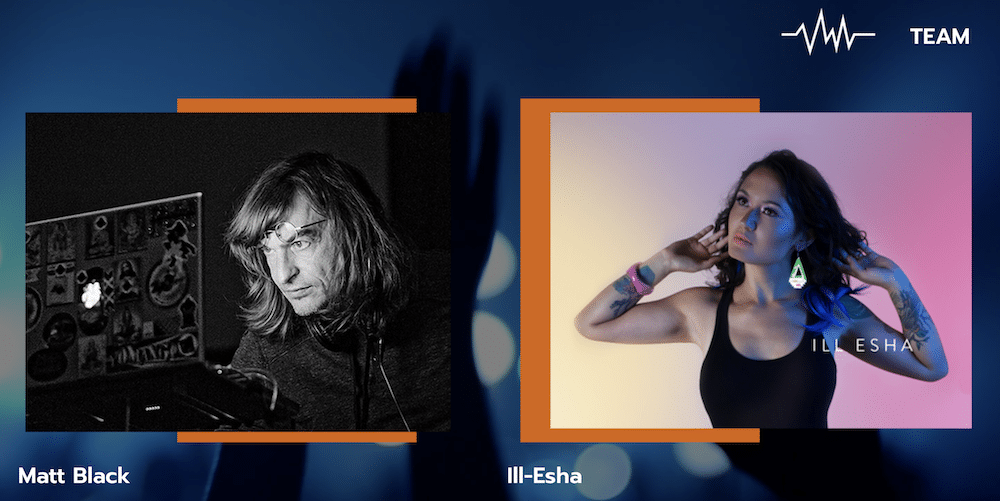 Next: a playlist that best represents you 👯‍♀️
Fresh experimental beats and melodies!