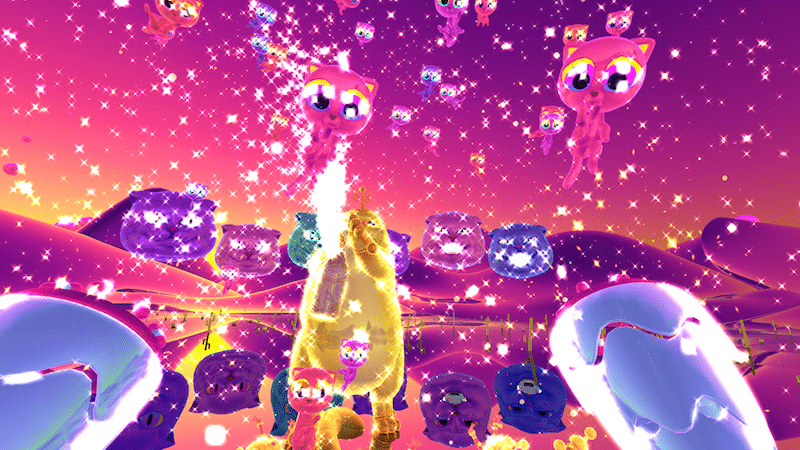 At SUBPAC we consider ourselves truly blessed by the gods of Bass to collaborate with and support creators of all kinds.  From music producers and audio engineers, to VR developers and game designers, SUBPAC has been able to bring feeling to more works of art than we are able to even keep track of.  We owe everything to the amazing creators in our community for spreading the gospel of physical audio to their audiences.
Sometimes, when the stars align, we are lucky enough to encounter a project that combines all of the aforementioned creator-types into one.  Chocolate is one of those projects.
Presented by executive producers Viacom NEXT, the emerging technology group at Viacom and created by Gentle Manhands, the VR studio founded by visionary Director Tyler Hurd, creator of renowned, award-winning VR experiences Old Friend and BUTTS, Chocolate is the latest piece of VR content that will blow your mind.
Seriously.  It's that amazing.


Eponymously named for the track "Chocolate" by early SUBPAC supporter and internationally touring producer and DJ, Giraffage, Chocolate is a 3-4 minute standing room-scale VR music video experience for the HTC Vive & Oculus Rift.
When describing the project Tyler Hurd's words serve best;
"Chocolate drops you as a robot into a world of colorful chrome in which everything is heavily synchronized to the music.  Your hands transform to cannons that spray cute chrome cats in slow motion to a tribe of people that are performing a ritualistic dance just for you, their robot god, to provide them with their precious resource, the cute lil' shiny kitties. Your hands then transform into pulse speakers that shoot giant shock waves out into the vast deforming chrome landscape."
"There's also a herd of giant cat heads bouncing around in the distance and a big fat towering tribal chief cat that joins in the ritual by spraying champagne all over you in slow motion like in a rap video.  Everything is shiny and glimmering, smooth and sexy, cute and strange, overwhelming and astonishing."


So just to recap that: Chrome transforming landscape, you're a robot, shiny dancing cats worshiping you, Giraffage's music, slow motion champagne showers, and pulse speaker bass cannons for hands.  Yes you read all of that correctly.
Hurd continues,
"In Chocolate the song itself is represented by a colorful chrome world of cats. You're a part of that world and when it's experienced with a SUBPAC you can feel the world pulsing through your body.  The more connected to the music and immersed you feel, the more ridiculous joy you feel, and the SUBPAC adds a level of immersion that takes that ridiculous joyous feeling over the edge."
We concur.
Chocolate is one of the first VR experiences to be part of the SUBPAC Optimized™ program, indicating that it has been optimized for a full-body experience.  It's increasingly difficult to find something that elicits instant, unbridled elation. Chocolate does just that. We at SUBPAC cannot wait to see what Gentle Manhands come up with next.
Chocolate is now available for special launch pricing of $1.99 on Steam and on Oculus Rift. Starting August 24th, Chocolate will be available for $2.99.
Learn more about SUBPAC Optimized: Here