After previous SUBPAC collaborations at VR world and the Wellcome Collection, The Feelies introduce their latest project alongside Greenpeace and Alchemy VR: Munduruku: The Fight to Defend the Heart of the Amazon'.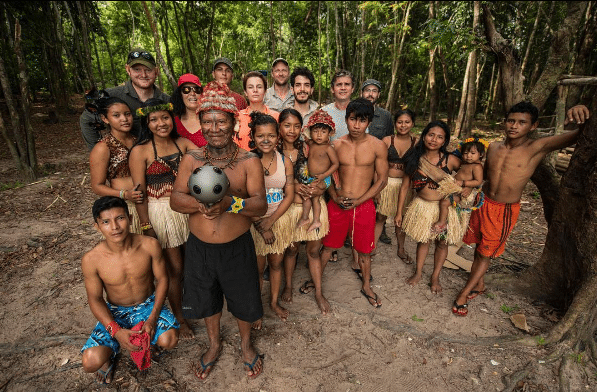 The Munduruku are an indigenous people of the Brazilian Amazon living in the Amazon river basin who are now in danger due to future plans to build hydroelectric dams. Greenpeace are currently working very closely with these communities to help establish rights to their land enabling them to protect their culture and way of life.
The Feelies Team spent two weeks living with them, capturing 360 video and multi sensorially mapping the landscape and their lives. The resulting experience includes bespoke smells/scent, 360 video and field recordings used to illustrate their story and send sensory messages to guide you through a narrative in an immersive and impactful way. The experience pods designed by Mark Tildesley incorporated SUBPAC S2's which have their own dedicated low frequency/infrasonic soundtrack captured and created by Antoine Bertin. The audio features underwater hydrophone recordings from the Tapajos river, sound design creating the sensation of falling from the top of a Kopok tree and other subtle physical cues underpinning the narrative throughout.




After the exhibition launch in Brazil, it traveled back to the UK featuring at the media tent in Glastonbury Festival and winning the Alternate Realities Audience Award at the Sheffield Film Documentary Festival. The pods are continuing to tour and spread awareness of the Munduruku's plight. It will be at FuturePlay in Edinburgh this month then traveling back to Brazil, Uruguay and Argentina with support from the British Council and Sheffield Film Doc Festival later on this year.
Check out a 360 video of the interior of an experience pod:
Learn more about The Feelies below:
https://www.instagram.com/thefeelies/
https://twitter.com/thefeelies
For more information about how you can use SUBPAC with your VR experience visit our FEEL VR page.