Tiffany "Delilah" is an amazing artist turned music industry boss! Getting her start as a recording artist, Tiffany learned first hand what it takes to move through a male dominated music industry and create an empire. Her path led her to begin interning at major studios in her hometown of Miami, Florida, only to find that she was often the only woman in the room and that there was not a lot of support for women in these fields. This inspired her to hone her skills and become one of the best recording engineers and producers in her city, leading her to work with numerous heavy hitters including Lil Uzi Vert, French Montana, TI, Rick Ross, DJ Khaled, Fat Joe and many more.
In efforts to position girls at the forefront of music technology, Tiffany founded Girls Make Beats (GMB) in 2012. The organization empowers young girls to become music producers, DJs and audio engineers. She has forged partnerships with industry titans like Apple, Spotify, Facebook as well as various major record labels to create unparalleled opportunities for the girls in the program. This includes an official remix for Janet Jackson and spearheading programs to engage the girls with music industry professionals such as Janelle Monae, Chloe x Halle, Tinashe and Eve. The work she is doing with GMB has been featured on Billboard, grammy.com, Good Morning America and more.
Tiffany has been a keynote speaker and panelist for many events with a focus on female empowerment, diversity and inclusion including Today at Apple, Avid Learning Partner Summit, the State of California Education AME Conference, JBL Black History Month, and more. With the Girls Make Beats movement, Tiffany has mentored hundreds of girls globally and she continues to break glass barriers for women and young girls.
We are excited to shine a spotlight on the incredible work Tiffany is doing alone as well as through her efforts with Girls Make Beats! More about Tiffany and GMB below!
Q+A with Tiffany "Delilah" Miranda:
Q. How did you get interested in music + tech?
A. I got interested in music because I have a love for singing and performing. I started singing when I was 11 years old and I knew it's what I wanted to do for the rest of my life. I actually got offered my first contract when I was 15 years old. I'm from Miami, so it was very heavy in the Miami scene. My first contract offer was from Uncle Luke of Luke records and that's where I met Pitbull, who then went on to be kind of a big brother to me in the music industry and really helped to get me into a lot of studios. I would sing hooks for him, however, during my time in the studios, I would realize that the majority of the creative process was coming from men and I really wanted to have more creative control, so that got me more interested in the tech side. I started to obtain my own home studio equipment. I purchased my first keyboard, MIDI controller and my first DAW being ProTools, and I really just fell in love with the art of that.
Q. What achievement are you most proud of?
A. I would have to say prior to my son, it would be actually creating Girls Make Beats and creating the safe space that really came from my struggles and challenges navigating as a woman in a male dominated industry. It's number two right now because my son is number one. But I am definitely super proud of all the work that we've done with Girls Make Beats. Um, and my son is just super amazing and such an amazing part of my life, and contributes to my story as being an advocate for women and the fact that we are mothers and trying to maneuver in these spaces and be taken seriously and with equality and equity.
Q. How do you stay motivated?
A. I stay motivated by just constantly surrounding myself with people who motivate me. I'm very fortunate to have a super great support system from my mom, my sister, to my fiance, my child, the girls in Girls Make Beats, the amazing women that I work with in Girls Make Beats as well, motivate me every day.
A. Life is an inspiration. I'm also inspired by various artists. Everybody from today's artists to all the way back in our roots of jazz. I grew up listening to Nina Simone and Billie Holiday and Motown and Latin music. I just fell in love with a plethora of different styles of music.
Q. What are some of the biggest challenges you have faced thus far + what have you learned from them?
A. I would say one of my biggest challenges was just really being taken seriously and getting my foot in the door initially again, as a woman navigating male dominated fields. I had to work twice as hard just to be given opportunities and what I learned from it was that you have to be relentless and resilient in anything that you pursue in life. There's a lot of competition in anything you choose to do, but specifically in the music industry, I feel like it's even 10 times harder. So persistence and perseverance, definitely at the end of the day really helped with that.
Q. What is the best advice you can give other women in music + tech?
A. You have to have tenacity. You have to really go for whatever it is that you want and be relentless with it. The only limitations are the ones that you accept. I know that there's a lot of stigmas that society puts on girls and women from an early age and breaking those glass ceilings is really important. You do that by writing your own stuff. Your story is unique. It's not anybody else's story.
Q. You are undoubtedly busy, how do you take care of yourself and maintain a good mental health?
A. I think for me, just surrounding myself again with a strong support system is really important. Also I'm a huge gym advocate. So as much as I can, with being a new mom it's really tough, but I try to go and work out and have my "me" time. Also when I'm in the studio and able to sing that is also very therapeutic for me.
Q.What's the greatest risk you've taken?
A. I would say definitely taking the leap from Miami to California. Miami has my family and everything I've ever known and loved. About four years ago, I decided to take the leap to LA, really knowing just a few people and not knowing financially if I would be able to pay my bills. I moved to a very small studio apartment with my cat and about five boxes and thank God I've been able to make it work and multiply and snowball all of the opportunities since I've been here by working hard.
Q. If you could have one superpower, what would you like it to be?
A. That's a good one. I would have to say, I think it might be fun to be invisible because you can be like a fly on the wall and, you know, listen to certain things and kind of just have that perspective on what would happen if you were not in the room or what would people say if you were not in the room. I guess that would be pretty intrigued to see what that sounds like.
Q. How did you navigate a male dominated industry?
A. I think I touched on that earlier, but just basically becoming the best in the room. I literally studied harder than anybody else. I was the fastest engineer at the end of the day. What winded up happening even after all of my challenges of not being taken seriously is I was the fastest and most efficient person and reliable person in the room. So I eventually got the job because at the end of the day, more than gender bias, people care about their money and I was saving them money. So when you save time, you save money. And I ended up getting the job eventually because of that, but it was not easy.
Q. What is the best advice you have ever received?
A.If they don't give you a seat at the table or allow you to be a part of their empire, build your own. Thanks mom. That comes from my mom. She's always taught me to pour into my own empire and really build something so that it doesn't matter if somebody is not accepting of you, because if you build it, they will come.
Q. What's the future of music and tech?
A. I'm really excited for the future of music and tech, especially as it relates to equity. I think what I'm experiencing is that there are a lot more girls and women who are now creating their own safe spaces by being able to do a lot of these creative processes from home as technology advances. I'm also excited about the fact that we have a more direct to consumer relationship as artists and creatives, and there isn't necessarily a "middle" person to get your music out. You can literally go on DistroKid and get your stuff up and running on DSPs and give access to people directly. So I think that's really powerful. I'm super excited about that, and especially as it progresses how it's going to have a huge impact on equity.
Q. What are you working on now…anything exciting coming up you want to share? 🙂
A. I'm working on plethora of things. So my daily life is really hectic, but again, super blessed. I juggle being the CEO of the organization to being a mom, to also still being a creative, I'm working on my own album, I won't say the name yet, but it's going to be used to encourage other women to continue to pursue their dreams even after, you know, getting married or having kids. That should just be more of a reason for them to pursue their dream. So I want to be a huge advocate for that, with my personal project.
And then as far as girls make beats, we're working on global domination, so a lot of cool stuff the girls are also working on. A girls make beats compilation album, they have a show coming up, they're going to be DJing the Clippers halftime show next week. Some of the really cool accomplishments: they have DJ'd for Missy Elliott's star in the Hollywood walk of fame, they've interacted with Janell Monae and Chloe and Halle in various Q & A's that we've done, they've produced original music for Nike Air Max Day commercial, we received a placement in Coming to America, we've done original music for Ford for a campaign they did with Angela Bassett and got to sit in on her voiceover and play their beats for her, which was amazing. So, you know, we're just continuously building the opportunity and community for these young girls to have access to that type of opportunity.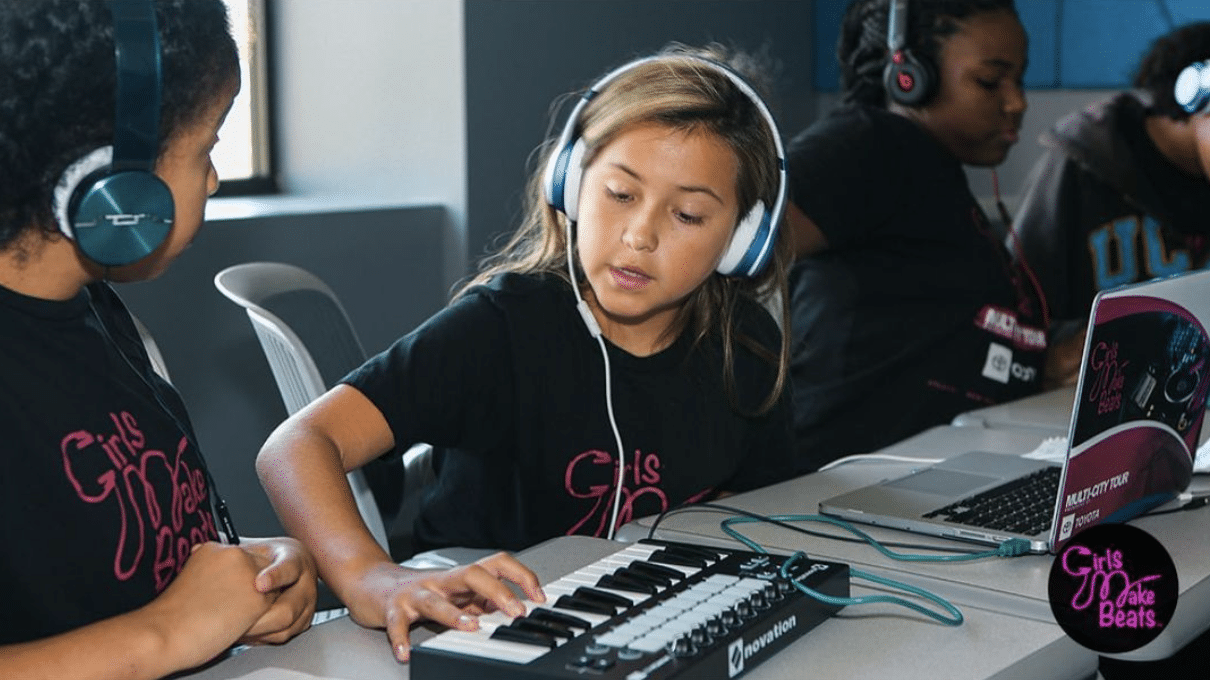 Next: check out the Girls Make Beats podcast on Spotify!