The delayed 2020 Tokyo Paralympics have just concluded with our friend and SUBPAC supporter Singaporean equestrian Laurentia Tan finishing fifth in the dressage individual freestyle test. 
Alongside her horse Banestro she qualified for the individual freestyle test after finishing fifth in the individual Grade I event. 
Laurentia is one of Singapore's most successful Paralympians, winning silver and three bronze medals since 2008. This was her 4th Paralympic game where she was also 1 of 6 flag bearers at the Opening Ceremony. 
During Tokyo 2020/21 she competed wearing a modified SUBPAC M2X. A simplified single transducer version of our popular M2X model.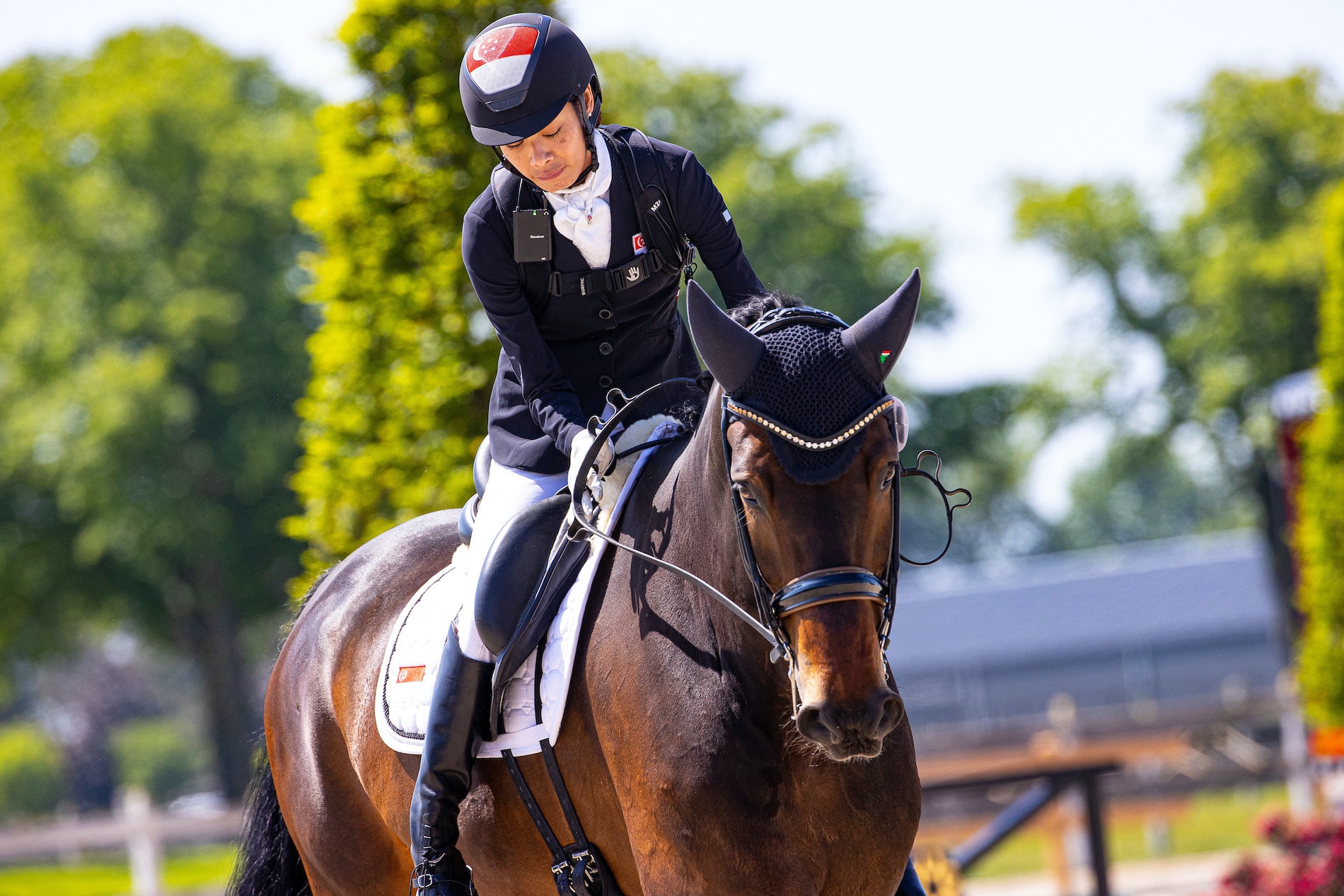 We have worked closely with Laurentia and the team at AudioVisibility for several years providing support and making a bespoke solution for her to use while riding. As Laurentia has cerebral palsy and is deaf, a lighter SUBPAC provided a more comfortable experience for riding. A single transducer SUBPAC, while less intense, maintains that she can still feel all the tactile cues in music enabling her to follow her Dressage routines. We also made sure that the project's composer Tom Hunt had access to our technology from the start of the project so tactile sound was an important element incorporated into the project from its inception.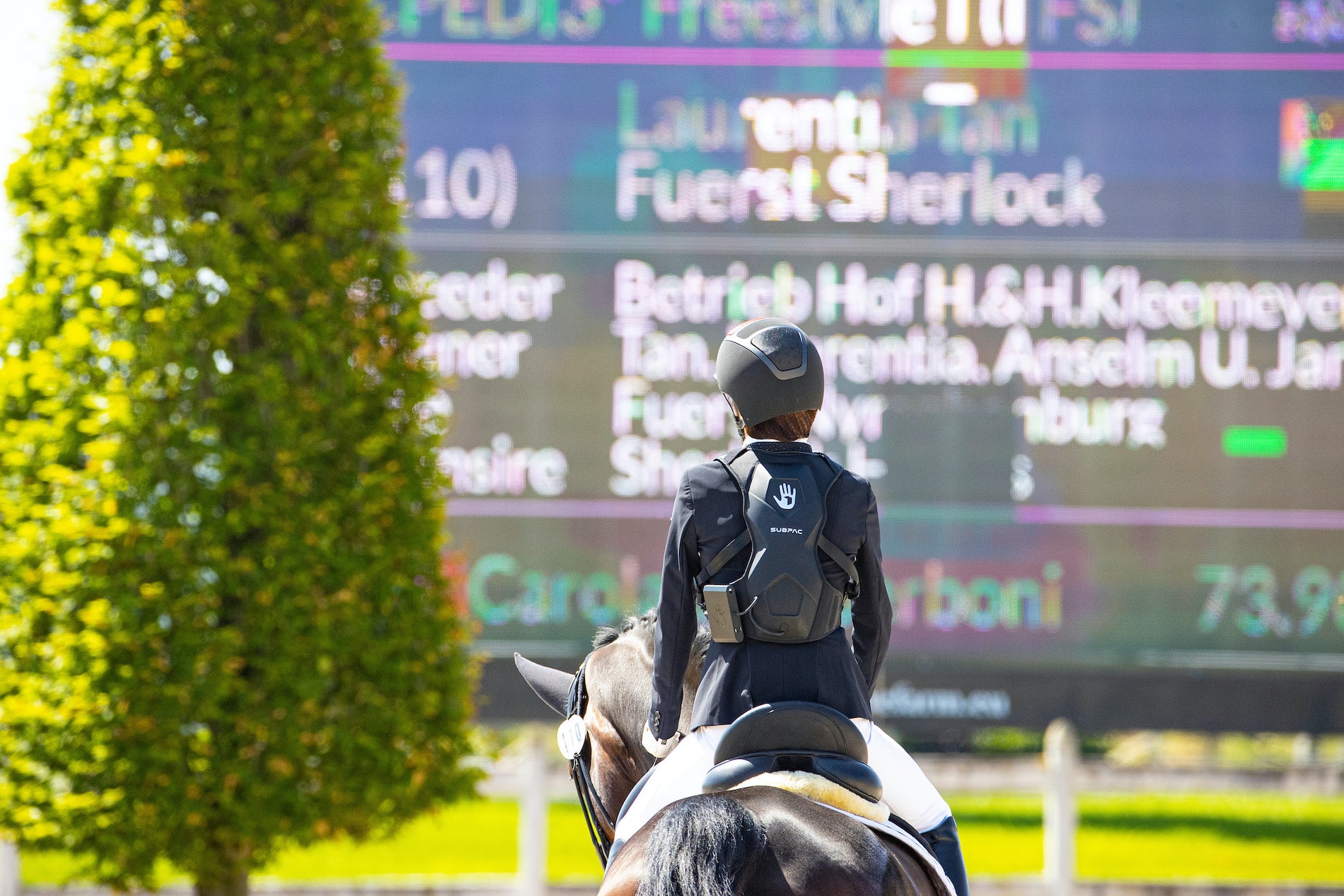 AudioVisibility is a charity that focuses on bringing the highest quality Classical and non-western traditional music to deaf people. 
Tom Hunt Dressage Composer Interview
We had the opportunity to speak with Tom Hunt who composed 'Two Hearts' for Laurentias and Banestros performance at the Tokyo 2020 Paralympics.    
Thanks for taking the time to speak with us, Tom. Can you give us a short introduction about who you are and the work that you do?
I'm a composer and producer and my primary business is focused on creating and developing original music for dressage riders around the world to use in their freestyle tests. I started creating music for dressage around 2012 when I produced the music for Charlotte Dujardin's London 2012 Olympic gold medal-winning freestyle. Since London 2012 I have been developing new techniques and focusing on pushing the boundaries of how music can be utilized in a dressage freestyle. I'm extremely passionate about the work that I do and it's exciting to see and hear how much dressage freestyle music has developed over the last ten years.
We provided you with a SUBPAC to work with early on in the Paralympic project with Laurentia Tan. How have you found working with our technology? How did SUBPAC fit into your workflow?
Working with SUBPAC has been incredible. At first, I wasn't sure how it was going to fit into my setup and workflow as a lot of the music I create is focused around orchestral templates and I initially associated SubPac with electronic dance/pop styles that feature lots of low-end bass parts. I started listening to all kinds of different genres and was blown away by how much fun the SUBPAC is – just listening to old albums gave them a new lease of life with so much more added energy and power. The best way I could describe it to people was that it felt like being at a live concert – you can feel the emotion of the music more. I had the same reaction when I started listening to film soundtracks by composers like Hans Zimmer and John Powell – it's like being in the concert hall with the live orchestra.
Working with the SUBPAC has been a huge help for me during the mixing process. Most of my compositions usually have around 100 tracks to mix and leveling the bass parts is always challenging. SUBPAC has become a vital part of my mixing process as it allows me to be more aware of what's happening in the lower registers of my compositions.
For Laurentia Tan's Paralympic music ("Two Hearts") it was immediately evident to me that SUBPAC was going to be a game-changer – not only in the way that it helps me produce the music but also how it will enable Laurentia to feel her music as she rides. Laurentia is deaf but wearing the SUBPAC enables her to feel and understand the music which is an integral part of a dressage freestyle. Creating the music for Laurentia using the SUBPAC allowed us to discuss the music in a way we hadn't been able to previously because this time Laurentia was experiencing the music for herself and giving feedback to the demos I was producing based on how the music felt to her and how much more feeling she wanted in certain sections. For instance, I used a percussive strike at the start of her freestyle with lots of low end to signal when she needs to begin riding, which was transmitted through her SUBPAC – without the SUBPAC this wouldn't have been possible.
You have mentioned in other interviews that the work for Laurentia was slightly more complex than usual due to having to work with input from a larger team, how did you navigate that challenge?
Music is extremely subjective and working with Laurentia also means working with her team who "hear" the music for her. I think when you're creating music for something the process can become challenging when there are lots of differing opinions and preferences as to how it should sound. The SUBPAC definitely helped us throughout the process because Laurentia could now approach the demos I was sending over in a new way and send me feedback based on what she felt within the music. I've worked with Laurentia and her team to create two freestyles over the last few years and each time it's been an extremely fun, creative and inspirational experience. 
How does working on a project like this change the way you write/compose? We can imagine there are some interesting ways of having to work with Horses that dance!
SUBPAC is now a permanent fixture within my setup. It's always fixed to my studio chair so I can switch it on at any point during the writing and mixing stages. I am constantly learning new things about how to implement SUBPAC in my work. I think one aspect to always consider when creating dressage music is that there is a horse involved. It's important to appreciate that some horses are more sensitive to sounds and music so I am always toning down sections of music for riders or re-working compositions that a rider has found to be too heavy in certain sections that could potentially spook the horse during a competition. SUBPAC allows me to re-work these sections and approach the music in a different way.
Can you tell us more about the composition you worked on for Laurentia?
The composition for Laurentia Tan is called "Two Hearts". The focus around creating this music was an "East meets West" theme, whilst bringing together sounds and instruments from Japan and mixing them with a contemporary orchestral sound more familiar to popular film soundtracks. I wanted to create music that feels emotive and powerful throughout with a main focus on creating distinctive themes and structures. The main body of music is orchestrated for strings, brass, and woodwind sections but the music really comes to life with the sounds of the Japanese Koto and Shakuhachi instruments. The music also has a stirring heartbeat which I created by layering Taiko Drum parts.
What are you currently working on and where can our community check out your work?
Apart from composing and producing new freestyle music I am currently working on a new album which I'm hoping to release on streaming services and iTunes by the end of this year (2021).
You can find my music on Apple Music and Spotify and my Instagram is @tomhunt.dressagemusic
AudioVisibility Two Hearts Online Concert
Thursday, September the 16th Audio Visibility will be hosting "Two Hearts" a free online live concert celebrating the world of Dressage music, horses, visual vernacular, and creative sign language. 
Check out the links below to find out more and sign up.